News & Updates

---
Artificial Arboretum is part of Unsettling Time, a pavilion of the The Wrong Biennale, 2019-2020



Unsettling Time is a curatorial project by alejandro t. acierto that foregrounds Indigenous, queer, and postcolonial ideas around time. With work that draws on the archives of networked society, these pieces offer new theoretical formations, assemblages, and conceptualizations of time and temporality.
In an effort to decolonize time, this project sets out to destabalize the


chrononormative straightness of time, to allow it to exist outside of the singular constructs of linearity and progress. As such, these works revise how we might think of other times, of the durations and extensions that push time into space, and of the multiple compressions of accumulated times that enable us the capacity to offer singular objects and memories.



IRL in Nashville from Nov 4-20, 2019 at Space 204 gallery at Vanderbilt University.
Online Nov 1, 2019 through Mar 1, 2020 at unsettlingtime.net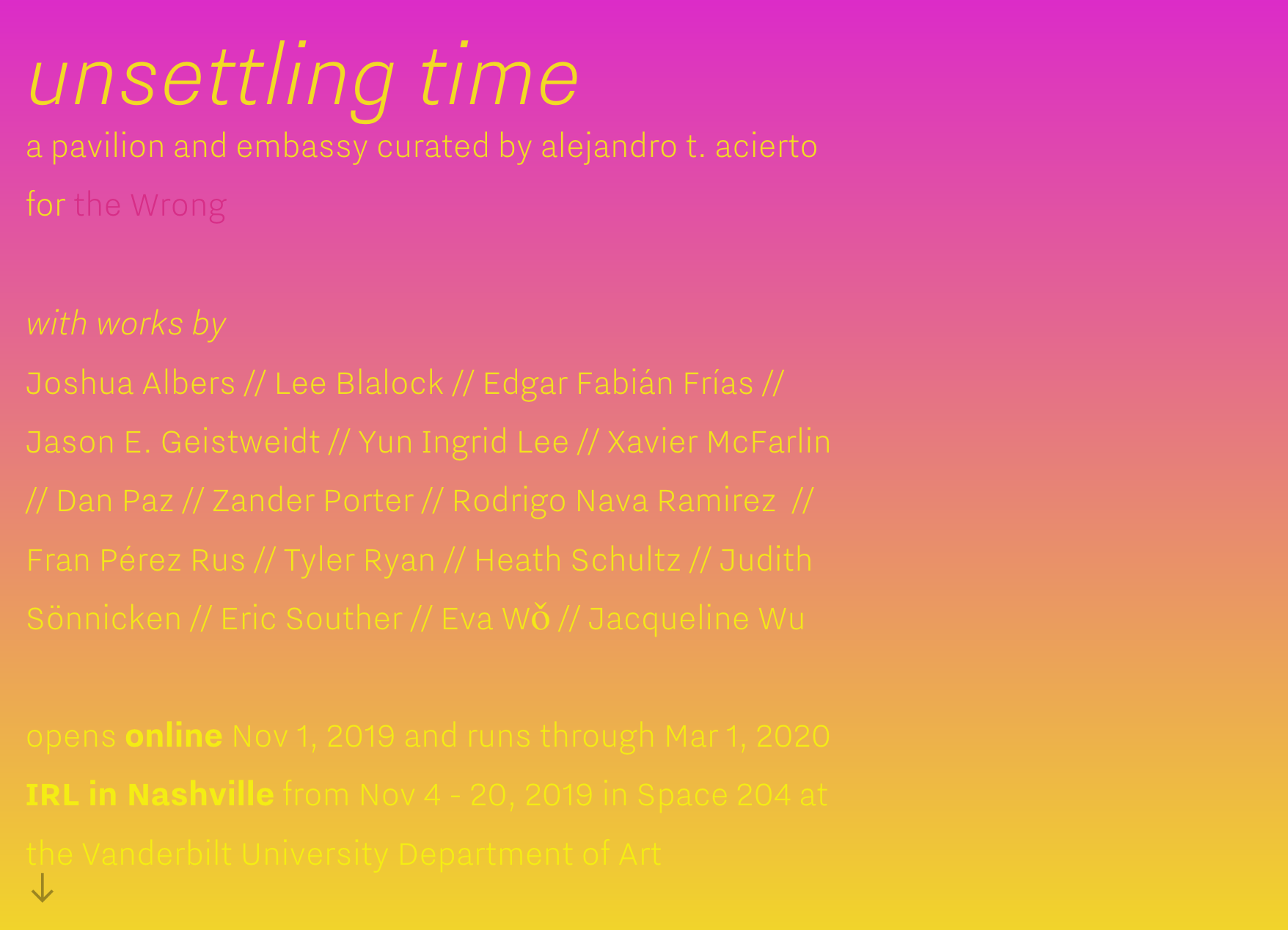 ---
---
Shards is part of Metropolitan Art Gallery Association's When Black Swallows Red exhibition at La Mama Galleria, New York, 2019



Mark Rothko once said if "there is only one thing I fear in life, my friend: one day, the black will swallow the red."

While people often believe there are some kind of metaphorical meanings behind this statement, there are none, for Rothko had long forsaken symbolism as well as surrealism by this mature stage of his artistic career. Rothko was someone who sought a truer self through his exploration of art.




This process of seeking-the-self was fated to be uncertain and adventurous, accompanied by hardship and struggle. This process of being an artist coincides with the process of making work- neither is a result of design or foreknowledge. But to seek oneself is the only thing an honest artist can do, and indeed, so do the young artists of today seek to find themselves within their own contexts.

This show aims to focus on works about processing, oxidizing, coloring, decaying, time, relationship, changes, migration, and transformation.



On view May 29-Jul 9, 2019. Event details here.



---
b(33)ty is part of SMUSH Gallery's annual Zero to 70, a group visual art show featuring high energy work priced at $70 or less.

On view May 3-Jun 9, 2019. Press release: An alternative to Sotheby's: The deeper worth of SMUSH's 'Zero to 70′ show


---